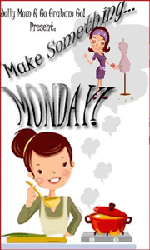 I used to make these all the time when our oven wasn't working and I was pregnant Morgan. (And even after Morgan was born, since the oven still wasn't working-LOL!) It was one thing that I could bake in our toaster oven! LOL!
Simply Fudgy Brownies
1/4 c. cocoa
1/2 c. vegetable oil
2 eggs
1 c. sugar
1 tsp. vanilla extract
3/4 c. flour
1/8 tsp. salt
1/2 c. walnuts (optional)
1/2 c. milk chocolate chips (semi-sweet work too!)
In a small bowl, combine cocoa and oil until smooth. In another bowl, beat eggs. Add the sugar, vanilla and cocoa mixture, mix well. Stir in flour and salt just until moistened. Fold in walnuts.
Pour into a greased 8 inch square baking pan; sprinkle with chocolate chips. Bake at 325 degrees for 30 minutes or until a toothpick comes out clean. Cool on a wire rack.
For more Make Something Monday, check out
Go Graham Go!
and
Jolly Mom
.