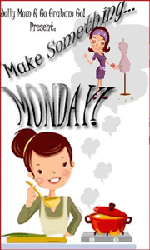 I grew up with my Mom making some delicious melt-in-your-mouth cookies from the egg whites she had left over after making noodles. I had never made them before, but every time I thought about them, my mouth would start watering and I would think "I have to try making those one of these days". Well, a couple weeks ago, I saw a recipe for 'Chocolate Forgotten Cookies' on
Boston Mamas
and they were almost the exact same cookies as I had growing up, except we called them 'Nighty-Night Cookies'. I figured since I had the recipe, I might as well stop putting off making them and give it a try, so here is the recipe:
Nighty-Night Cookies (Chocolate Forgotten Cookies)
2 egg whites
Pinch of cream of tartar
2/3 cup sugar
1 tsp. vanilla extract
6 oz. (1/2 bag) chocolate chips

1. Preheat oven to 350 degrees.
2. Place egg whites and cream of tartar in the SCRUPULOUSLY clean and dry mixing bowl of a standing mixer with a balloon whisk. (You can also use a hand mixer but it may take longer.) Beat at high speed until egg whites foam and start to get shiny, then sprinkle in sugar v-e-r-y slowly as beaters continue. Add vanilla extract, and beat until stiff peaks form. Meringue should be glossy and firm. Gently fold in 6 oz. (1/2 bag) chocolate chips.
3. Drop large tablespoons of batter on a foil-lined baking sheet. Place all cookies in the oven at once and turn oven off. DO NOT OPEN OVEN DOOR until morning or until oven has completely cooled (hence, "Forgotten"). I recommend starting this recipe after dinner the night before you need the cookies.
4. Keep in a tightly covered plastic container; separate layers with sheets of waxed paper.
And this is how they turned out!
I think they turned out better than I remember them. They must have, because I scarfed them down! (Seriously-they were done in the morning and gone the same night!) If you have never had these cookies before, I would highly recommend trying them! They turn out the best if there isn't a lot of humidity in the air. (I actually chose a cold dry night to make them.) Boston Mamas actually has a variation on the recipe as well, if you would like to head over there and check it out! :-)
For more Make Something Monday, check out Go Graham Go! and Jolly Mom.