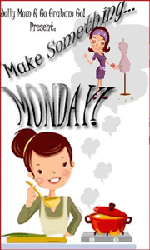 I was craving some pumpkin baked good deliciousness this summer, so I stole some home-canned pumpkin from my mother-in-law and made these little goodies. I figured this was a great time to post this with the pumpkin season in full swing. ;-) (Oh-I made sure to share the cookies with my in-laws after steeling the pumpkin!)
Old-Fashioned Soft Pumpkin Cookies:
2-1/2 cups all-purpose flour
1 teaspoon baking soda
1 teaspoon baking powder
1 teaspoon ground cinnamon
1/2 teaspoon ground nutmeg
1/2 teaspoon salt
1-1/2 cups granulated sugar
1/2 cup butter (1 stick), softened
1 cup canned pumpkin
1 large egg
1 teaspoon vanilla extract
Glaze (recipe follows)
Preheat oven to 350 degrees. Grease baking sheets.
Combine flour, baking soda, baking powder, cinnamon, nutmeg and salt in medium bowl. Beat sugar and butter in large mixer bowl until well blended. Beat in pumpkin, egg and vanilla extract until smooth. Gradually beat in flour mixture. Drop by rounded tablespoonfuls onto prepared baking sheets.
Bake for 15 to 18 minutes or until edges are firm. Cool on baking sheets for 2 minutes; remove to wire racks to cool completely. Drizzle Glaze over cookies.
For Glaze:
Combine 2 cups sifted powdered sugar, 3 tablespoons milk, 1 tablespoon melted butter and 1 teaspoon vanilla extract in small bowl until smooth.
Variation: I added coconut to the cookies as well and it made them super delicious! :-)