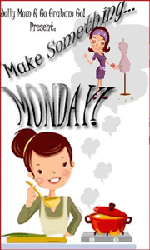 After all the work of making sure our tomato plants were weeded, and picking countless tomato worms off them, they ended up with blight. Luckily we were able to salvage most of the tomatoes before the plants were terribly infected. Most of them are still green, but the other day I had enough to make my first batch of salsa. It turned out beautiful! The only mistake I made was letting Rich put in the jalapenos-it is HOT! When I say HOT, I mean that I am sweating after one bite of a chip dipped in it. It takes a little while to feel the heat, but then it burns like your tongue is on fire! I definitely learned a lesson, though, only make salsa while Rich is at work! LOL!
Salsa:
15 large tomatoes, peeled and sliced
15 jalapeno peppers diced (10 medium) (5 mild), seed in
5 large onions, diced
1-1/2 tablespoons salt
1 cup white vinegar
1/3 cup sugar
1-1/2 teaspoons garlic powder
1/4 cup lemon juice
2 teaspoons oregano
1/2 bunch cilantro (which I don't use)
Optional-green peppers
Mix all ingredients together, cook until thick-about 2 hours. (I like salsa quite thick, so I cook it longer.)
Process by waterbath canning method for 15 minutes.
Pre-cooked:
Cooked:
I canned 9 pints from this batch (plus there was extra) and am hoping to get a couple more batches-especially since this one is barely edible...by me-Rich loves it!