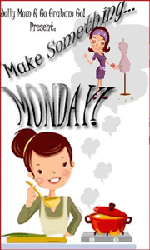 This is probably my favorite yeast bread that my mom made when I was growing up. It is delicious and dangerous! When I made this the last time both loaves were gone within 24 hours and Rich was working...yeah-I was bad, but it was worth it! LOL! :-)
Cinnamon Bread:
7 to 7-1/2 cups flour
2 cups milk
1/2 cup shortening
2 packages yeast
1/2 cup sugar
2 teaspoons salt
2 eggs
Mix 3-1/2 cups flour and yeast in large bowl. Heat milk, sugar, shortening and salt until shortening melts. (I then let it cool until it is lukewarm. To cool it quicker I'll fill the sink half full with cold water then hold the pan in it and stir until it is lukewarm.) Add to flour mixture and stir. Add eggs and beat 30 seconds on medium, then 3 minutes on high. Add in the rest of the flour while beating. Knead 8 to 10 minutes. Raise until doubled in size. Turn out and let rest 10 minutes. Divide in 2 (for 2 loaves). Roll out to 15x7 rectangles. Mix and sprinkle 1/2 cup sugar and 2 teaspoons cinnamon over rectangle. Then sprinkle 1 teaspoon water over mixture and spread. Roll up and bake at 375 degrees for 30 to 40 minutes.
Optional: Top with sugar mixture or a powder sugar glaze of 1 c powder sugar, 1/4 teaspoon vanilla and 1-1/2 tablespoon milk. (I don't top it with anything, but butter when it is right out of the oven-it's delicious on it's own!)
This is great on it's own for the first day. If it lasts longer than a day (you know-if you haven't eaten it all) it is delicious toasted and buttered. I haven't tried it yet, since it is never around long enough, but I'm sure it would be awesome to use in a cinnamon french toast!